As we all know social media plays a very important role for every business and especially for bloggers. If you are a newbie as a blogger then you should know that you need to include social media sharing buttons on your blog. So your readers can easily share your post on their social media profile and in return, you will get traffic from the social media sites, which also improve your SEO ranking.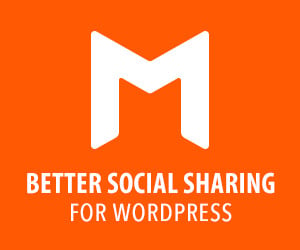 It is very essential for every blogger to include social sharing buttons on their blog since it was started, it's not at all easy to achieve great amount of traffic towards your blog without social media integration. You should to add Facebook, Twitter, Google+, Pinterest, Stumbleupon and Tumblr social sharing buttons on your blog and these are the most popular social media networking sites.
Below all the plugins are selected by me, which I have focused on how many numbers of users using this plugin and also the ratings are given by users. So take a look at WordPress social media plugin and pick it up, which one you like and include in your blog.
Free Best WordPress Social Media Plugin

Social Warfare is a lightning fast and highly customizable social share plugin with loads of features that make it the most effective sharing plugin on the market.
Not only will it never slow down your website like other sharing plugins, they give you the most attractive buttons available that look great no matter what screen size or resolution.
Social Warfare helps you get your content shared the way you want it to be shared. Get more shares and drive more traffic now with the best sharing plugin for WordPress!
We also give you the ability to have floating share buttons follow your readers down the screen when static (non-floating) buttons are not in view. This way the reader will always have easy access to your share buttons, no matter where they scroll on your page.
If you want more features like Social Proof, Twitter Cards, Analytics Integration, Content Protection, Share Count Recovery etc then you need to go for its premium version.
Some of the highlighted features:
You can choose from the top social networks sharing buttons such as Facebook, Twitter, Google+, Pinterest and LinkedIn)
You can also choose where you want the buttons to show up Above the post content, Below the post content, Both above and below the post content, None (or) Manual placement
Social Warfare's Popular Posts widget allows you to display and customize the look with Post thumbnail images, Image and text size, Custom visual themes and Custom date range
and Much More.
---
Some of the highlighted features:
Bookmarks design and position options. You can set up position, color for the bookmarks
Share sidebar for sharing your website page. Many positions, size and type icons you can setup on your admin area
Popup with custom share buttons
Floating popup with custom share buttons
and Much More.
---
3> Kiwi Social Share – Social Media Share Buttons & Icons
Kiwi Social Share is by far the best & easiest to use WordPress social media share plugin. A WordPress share plugin with custom icons built-in.
Some of the highlighted features:
Four different Skins
Turn on/off each of them, individually
Amazing loading speed
Possibility of re-arranging icon position on the share bar
and Much More.
---
Sharify adds responsive and beautiful sharing buttons to your WordPress posts and pages. The buttons are responsive which looks beautiful on every device and theme. The plugin includes sharing buttons for Twitter, Facebook, Google+, LinkedIn, Pinterest and VKontake. Sharify also provides buttons for Reddit submit, Pocket and even Email.
Some of the highlighted features:
Responsive Sharing Buttons for Twitter, Facebook, Google Plus, Reddit, Pocket, LinkedIn, Pinterest, Email, VKontake
Ability to hide/display sharing buttons
Ability to change color of sharing buttons
Share counts for Twitter, Facebook Google Plus and LinkedIn!
and Much More.
---
Cresta plugins support only five social network, which is Facebook, Twitter, Google+, LinkdIn and Pinterest. It has social counter feature and also gives you the option to choose up to 9 button styles. You can able to show the social buttons as a floating and also you can show the social buttons before/after the content of the post or page. You can easily display social buttons, anywhere you want to display on your blog by using of shortcode.
Some of the highlighted features:
Show Social Counter
Choose up to 9 buttons styles
Show the floating social buttons
Show the social buttons before/after the post or page content
and Much More.
---
Jetpack is a well-known plugin for WordPress and it comes with lots of powerful features, but here we will see only its social sharing feature, and for that you need to activate it first, then you can add as well as rearranging the social sharing buttons. You can get more info about Jetpack plugin here.
---
Shareaholic is also one of the popular plugin, we also know this plugin as Sharing is Caring. The best thing about this plugin is that it's not only for social sharing, but also gives other features like to show the recommendations & related content to increase the time and engagement of visitors on your site.
Some of the highlighted features:
Share Counters for Twitter, Facebook, LinkedIn, etc
Official support for Google's URL shortener
Localized in 15+ languages
Related Content support for post keywords specified in "All in One SEO Pack", "WordPress SEO by Yoast", etc plugins
and Much More.
---
Mashshare Share Buttons show the total share counts on Facebook and Twitter at a glance It puts some beautiful and clean designed Share Buttons on top and end of your posts to get the best most possible social share feedback from your user. It's inspired by the Share buttons Mashable is using on his website.
Some of the highlighted features:
Performance improvement for your website as no external scripts and count data is loaded
Privacy protection for your user – No permanent connection to Facebook, Twitter and Google needed for sharing
High-Performance caching functionality. You decide how often counts are updated
Automatic embedding or manual via Shortcode into posts and pages
Works with every Theme
and Much More.
---
9> Ultimate Sharing – Social Media Share Buttons and Social Icons
Ultimate Sharing Social media plugin which let's you add icons for RSS, Email, Facebook, Twitter, LinkedIn, Google+, Pinterest, Instagram, Youtube, 'Share' (covering 200+ other social media platforms) and upload custom icons of your choice.
Some of the highlighted features:
Pick from 16 different designs for your social media icons
Give several actions to one social media icon
Decide to give your social media icons an animation
Make your social media icons 'float' or 'sticky'
and Much More.
---
Flare is a simple yet eye-catching social sharing bar that gets you followed and lets your content get shared via posts, pages, and media types.
Some of the highlighted features:
Add a Follow Me widget
Easily order your icons, customize their icons' appearance
Control which post types your Flare appears on
Flare displayed on the left and right of your post follow your visitors down the page as they scroll and conveniently hide when not needed
and Much More.